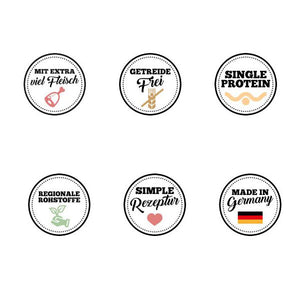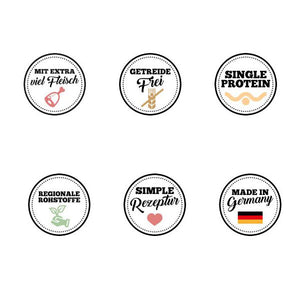 THE GOOD STUFF - Rind & Zucchini ADULT
FEUCHTFUTTER RIND & ZUCCHINI

In bewährter THE GOODSTUFF Super Premium-Qualität. Das Hunde-Nassfutter enthält 70% frisches Rinder-Muskelfleisch und hochwertige Innereien, wie Herz, Leber und Pansen in Lebensmittelqualität. Schonend gegart und verfeinert mit regional verfügbarem Obst & Gemüse sowie ausgewählten Kräutern und Leinöl. Ideal auch als Alleinfuttermittel für Hunde aller Rassen und Größen - besonders stückig und natürlich getreidefrei.
Alle Rezepturen sind Single Protein, hergestellt mit frischem Fleisch in Lebensmittelqualität, regional verfügbaren Rohstoffen und immer ohne Verwendung von Getreide. THE GOODSTUFF setzt auf eine einheitliche, klar verständliche und reduzierte Rezeptur, welche jederzeit erlaubt, bedenkenlos innerhalb einer Produktfamilie zwischen den verschiedenen Fleischsorten wechseln zu können.

FRISCHE REGIONAL VERFÜGBARE ZUTATEN:
Frisches Rindfleisch, -herz, -leber, -lunge, -pansen, -niere (70%), Rinderbrühe (24,7%), Zucchini (2%), Karotten (2%), Apfel (0,5%), Mineralstoffe, Leinöl (0,2%), Bockshornklee, Löwenzahn, Flohsamen, Spinat, Rosmarin
ANALYTISCHE BESTANDTEILE: Protein 11,00%, Fettgehalt 6,00%, Rohasche 2,10%, Rohfaser 0,40%, Feuchtigkeit 79,00%, Calcium 0,30%, Phosphor 0,20%, Natrium 0,20%, Kalium 0,20%, Magnesium 0,02%
HERSTELLUNG: Was uns bei dem Trockenfutter mit der einzigartigen Produktionsmethode an Revolution gelungen ist, hat THE GOODSTUFF beim getreidefreien Feuchtfutter mit qualitativ herausragenden Rezeptur, dem überdurchschnittlich hohen Fleischanteil von 70% und dem schonenden Garprozess geschafft! Die Rezepturen der Feuchtfuttersorten besticht durch ihre Übersichtlichkeit, d.h. es wird auf wenige, dafür besonders hochwertige Zutaten gesetzt! Natürlich wird auch auf sämtliche künstliche Geschmacksverstärker oder Zusatzstoffe sowie blähende Füllstoffe verzichtet.
Für das Feuchtfutter von THE GOODSTUFF werden ausschließlich beste natürliche Zutaten in Lebensmittelqualität möglichst aus der Region verwendet. Frisches Fleisch (je Sorte natürlich nur eine Fleischquelle!) und knackiges Gemüse werden schonend gegart und gemeinsam mit Kräutern und Obst zu wohlschmeckenden Menüs verarbeitet.