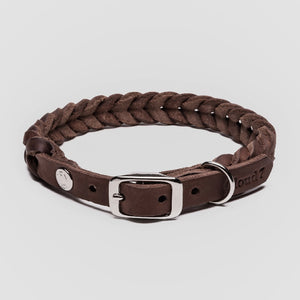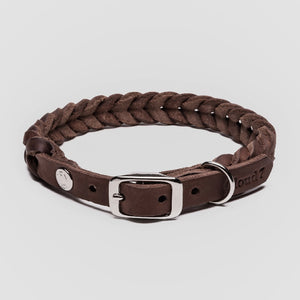 Central Park Saddle Brown dog collar
Like all Cloud7 collars, the CENTRAL PARK was also handcrafted. A particularly soft and robust fat leather was used for the material, which gives the narrow collar with its artful braiding and high-quality metal parts a sophisticated look. Over time, the oiled leather develops an unmistakable organic patina.
high quality leather
Handwork
organic patina
Materials:
Leather:
real cowhide leather
Care: Regular greasing helps to keep the leather soft and supple.
Central Park dog collar

All sizes in cm.
* Measure around the CIRCUMFERENCE where the collar is worn.

| size | Neck circumference * | Collar width |
| --- | --- | --- |
| XS | 27 - 31 | 2.0 |
| S. | 30-35 | 2.0 |
| M. | 34 - 40 | 2.3 |
| L. | 39-45 | 2.3 |
| XL | 44-50 | 2.8 |
| XXL | 49-55 | 2.8 |