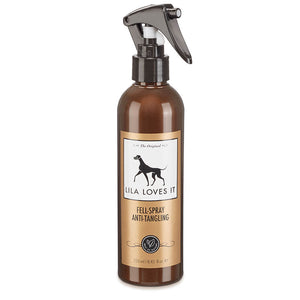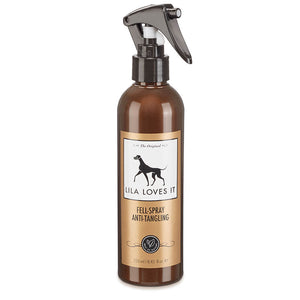 Fur spray
Intensive care "to go" - for easy combing

Thanks to its gloss formula, FELL-SPRAY is significantly easier to comb with all types of fur. Even wiry fur and even thick undercoat are noticeably easier to groom. The surface of the hair is smoothed, making the often difficult and unpopular combing procedure much more pleasant and noticeably less long. And the shine of the fur is also optimized. The FELL-SPRAY cares for the fur intensively without weighing it down.

Thus, the FELL-SPRAY is also a popular companion for groomers and show dogs. Valuable natural ingredients for intensive care without weighing down. The FELL-SPRAY has an intensive caring effect thanks to valuable oils such as macadamia, jojoba and coconut oil. The fur becomes easier to comb. With daily use, the coat structure is sustainably improved and the hair substance is protected. Aloe vera provides plenty of moisture and vitamin E has a regenerative effect on skin and coat.