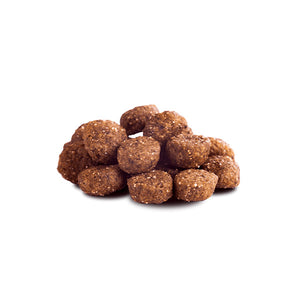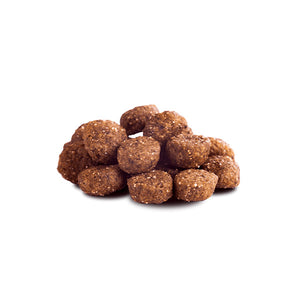 THE GOOD STUFF - Huhn Senior/Light
TROCKENFUTTER HUHN für ältere Hunde oder erwachsene Hunde mit geringer Aktivität in bewährter THE GOODSTUFF Super Premium-Qualität. Ein ideales Alleinfuttermittel für Hunde aller Rassen und Größen. Schonend hergestellt ohne Getreide, reich an frischem Hühner- & Puten-Muskelfleisch in Lebensmittelqualität, Amaranth mit niedrigem glykämischen Index, regional verfügbarem Obst & Gemüse sowie ausgewählten Kräutern. Dank Chondroitin & Glucosamin aus natürlichen Quellen (Hühnerknorpel, Krustentiere) sorgt diese spezielle Sorte von THE GOODSTUFF für eine optimale Unterstützung gesunder Gelenke.
Alle Rezepturen sind Single Protein, hergestellt mit frischem Fleisch in Lebensmittelqualität, regional verfügbaren Rohstoffen und immer ohne Verwendung von Getreide. Es wird auf eine einheitliche, klar verständliche und reduzierte Rezeptur, welche jederzeit erlaubt, bedenkenlos innerhalb einer Produktfamilie zwischen den verschiedenen Fleischsorten wechseln zu können gesetzt.
FRISCHE REGIONAL VERFÜGBARE ZUTATEN: Frisches Hühnerfleisch (40%), Amarant (25%), getrocknetes Hühner- & Putenfleisch (22%), Erbsenmehl, Apfel, Chiasamen, Hühner- & Putenleber (2%), Mineralstoffe, Leinsamen, Hühner- & Putenfett (1%), Karotten, Zucchini, Bockshornklee, Löwenzahn, Flohsamen, Spinat, Rosmarin (0,1%), Chondroitin (0,05%), Glucosamin (0,03%)
Analytische Bestandteile: Protein 28,00%, Fettgehalt 14,00%, Rohasche 6,50%, Rohfaser 4,20%, Feuchtigkeit 10,00%, Calcium 0,90%, Phosphor 0,80%, Natrium 0,25%, Kalium 0,50%, Magnesium 0,15%, Omega-6-Fettsäuren 2,80%, Omega-3-Fettsäuren 0,70%, Chondroitin 500 mg/kg, Glucosamin 300 mg/kg

Energie 3.750 kcal/kg
Proteinquelle 70 % tierisch | 30 % pflanzlich
Technologische Zusatzstoffe: Tocopherol Extrakte aus pflanzlichen Ölen [= natürliches Vitamin E] (48 mg); Klinoptilolith sedimentären Ursprungs [=Zeolith] (1.000 mg)
FRESH-MIX Methode: Höchstes Augenmerk legt The Good Stuff wir auf schonende Produktionsmethoden, damit Hunde ein Maximum an Nährstoffen aus unseren besonders hochwertigen und frischen Zutaten erhalten. Schonendes Produktionsverfahren – die so genannte FRESH-MIX Methode – garantiert, dass sämtliche Zutaten weder Druck oder zu hoher Reibung, noch übermäßiger Hitze ausgesetzt sind und Nährstoffe bestmöglich erhalten bleiben. Fleisch, Amaranth, Obst, Gemüse und wertvolle Kräuter werden frisch und schonend verarbeitet.