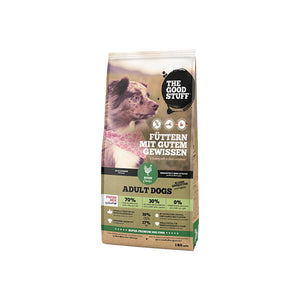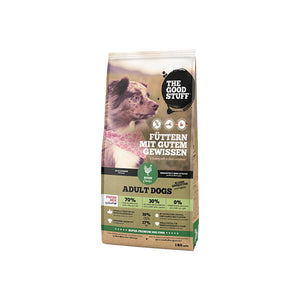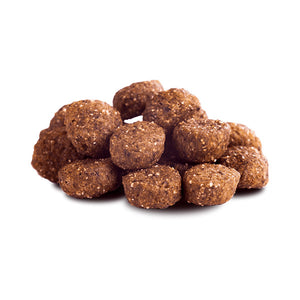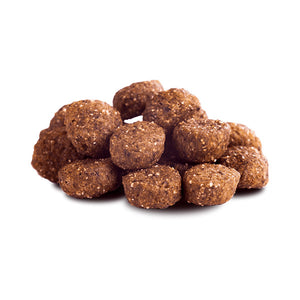 THE GOOD STUFF - Huhn Mini Adult
TROCKENFUTTER HUHN für ausgewachsene Hunde in bewährter THE GOODSTUFF Super Premium-Qualität. Ein ideales Alleinfuttermittel für Hunde aller Rassen und Größen mit normaler Aktivität. Schonend hergestellt ohne Getreide, reich an frischem Hühner- & Puten-Muskelfleisch in Lebensmittelqualität, Amaranth mit niedrigem glykämischen Index, regional verfügbarem Obst & Gemüse sowie ausgewählten Kräutern.
Alle Rezepturen sind Single Protein, hergestellt mit frischem Fleisch in Lebensmittelqualität, regional verfügbaren Rohstoffen und immer ohne Verwendung von Getreide.
Inhalt: 1kg
Zutaten: Frisches Hühnerfleisch (40%), getrocknetes Hühner- & Putenfleisch (26%), Amarant (21%), Erbsenmehl, Apfel, Hühner- & Putenfett (3%), Chiasamen, Mineralstoffe, Leinsamen, Hühner- & Putenleber (1%), Karotten, Zucchini, Bockshornklee, Löwenzahn, Flohsamen, Spinat, Rosmarin (0,1%)
Analytische Bestandteile: Protein 30,00%, Fettgehalt 17,00%, Rohasche 7,50%, Rohfaser 3,50%, Feuchtigkeit 10,00%, Calcium 1,20%, Phosphor 1,00%, Natrium 0,35%, Kalium 0,50%, Magnesium 0,15%, Omega-6-Fettsäuren 3,50%, Omega-3-Fettsäuren 1,00%