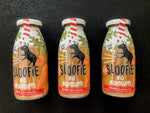 FIRST AID WITH THE DOG
Morosche carrot soup is one of the best home remedies for diarrhea. For dogs and humans - equally!
AN ANCIENT HOME REMEDY FROM CHILDHOOD - BEFORE ANTIBIOTICS.
With a saucepan full of carrots, you can produce an active ingredient at home that in many cases is superior to industrial antibiotics in the case of intestinal infections. It took decades to fully understand the effect: the extra long boiling of the beets creates a very special sugar molecule that docks on the intestinal wall and thereby blocks the exclusive docking point for dangerous single cells such as giardia. As a result, these intestinal parasites lose their hold on the intestinal wall. They slide off. Together with the food pulp, the now unstable pests are transported on and excreted in the normal way. The intestines cleanse itself through the Morosche carrot soup.
the Moro carrot soup or Moro carrot soup was developed in human medicine in the field of paediatrics.
The inventor is the Heidelberg professor and then head of the children's clinic, Prof. Dr. Ernst Moro around 1908.
In the time before antibiotics, it was possible to reduce child mortality from diarrheal diseases considerably through Moro soup
the biochemistry of the 'soup' was not scientifically understood until much later.
Moro soup has been shown to help with intestinal infections.
Long-term cooking of the carrots creates oligosaccharides.
Oligosaccharides coat and protect the intestinal wall.
DOG AND BEET - HOW SHOULD THE MORO SOUP BE OFFERED?
completely cooled to room temperature
Serve in small portions four to five times throughout the day.
Depending on the dog's health situation, choose the appropriate recipe variant, e.g. for strengthening with honey or, after water loss, with electrolyte or healing earth.
The basic recipe is always correct for diarrhea and can be offered pure.
The ORGANIC MORO SOUP from SLOOFIE is a great alternative to cooking yourself!
This saves you from having to cook the carrots for hours and you have a miracle cure at hand when things have to go quickly!
Source: https: //erste-hilfe-beim-hund.de/cgi-php/rel00a.prod/joomla/Joomla_1.6/index.php/morosche-karottensuppe